The estate is located in the province of Pisa Tuscany in a hilly area near the sea, the place is ideal for the cultivation of vines, olives and to taste the products QUERCIALUCE comfortably seated on the terrace overlooking the sea, islands and , in the evening … sunset.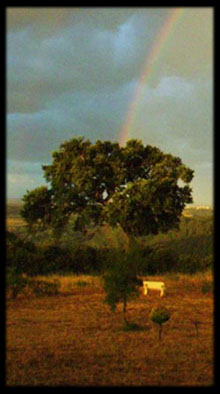 Mission
The company's mission is to develop and deliver products through in-depth studies and research of the highest quality all-natural processes that involve respect for the human organism.
QUERCIALUCE through scientific analysis and many years of experience in the wine production and medicine wants to develop an innovative system of production and distribution that respects nature and man.
This management approach is possible thanks to the deep commitment of Massimo Monti in each business division. Passionate person of studies and research leads all activities with passion and devotion. The two degrees in medicine and the subsequent degree in viticulture and oenology, in addition to the proven work experience, combine the two main Massimo passions: man and nature. A combination that is transferred in the corporate values ​​giving QUERCIALUCE a unique character. QUERCIALUCE develops natural products.
Man, with all its peculiarities, is at the center of the activities carried out by QUERCIALUCE.
The result is the creation of advanced products, unique and superior organoleptic qualities. The true flavors, long-lost, can be tasted again.
Territory
QUERCIALUCE is situated in a privileged position for excursions natural, cultural and gastronomic. You can download the map below with some of the possible excursions in the area. Click here >> .
>> Click here and see the map on Google.
Where we
You will find us:
Via Montestorpioni, 23, Località Sorbugnano
56046
Riparbella, Pisa, Italy
Or this nice and useful map 🙂

Contact Us
E-mail: ordina(at)quercialuce.it, a>
or call
Tel:(0039)3358308295.
All pictures can be found here. 🙂